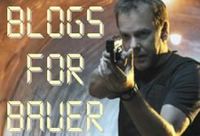 How I wish I lived in Japan
Thanks to my handy-dandy google alerts, I've learned that Vodafone has plans for 24:
Vodafone K.K. announces today that on 3 October 2005 it will launch '24: Conspiracy', a new made-for-mobile drama inspired by the blockbuster Fox TV series '24', on Vodafone live!

Coinciding with the fourth season of the '24' TV series, '24: Conspiracy' consists of 24 one-minute episodes that take place at CTU Washington D.C. to form a parallel story made specifically for mobile (as video clip content), with a completely original cast. Vodafone Group operating companies have already launched '24: Conspiracy' in 7 countries, including the US and UK.
I wonder, will they also be offering the nuclear-powered cell phones that Jack Bauer carries? You know, the ones that never need charging of any sort, despite all kinds of power-draining activities?
Either way, this sounds like it could be a pretty cool use of emerging technologies.
UPDATE [9/16/2005 - 14:36]:
The Man
emails to remind me:
For those of you that think a 1 minute episode is not enough time....remember last season, Jack drove to CTU, changed into a suit (with a windsor knot), spoke to the Chinese ambassador, changed, and drove across LA in less than 5 minutes.
He also provides a link to last Spring, when he and I
exposed Jack Bauer's superhuman speed
. Enjoy!