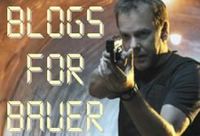 Blogs for Bauer
Of course, by that I don't mean Jack Bauer, but Kim, his hot daughter. Blogs for Bauer founder The Man, over at GOP and the City likes to point out that he runs a family blog—I have never made any such claim, though I do try to avoid profanity.

Still, when I came across this article today, I couldn't avoid posting:
Elisha Cuthbert was caught in a purple see through recently. Elisha is one of the Hollywood bombshell.

Though she spent the majority of her youth in Montreal, Cuthbert moved to Los Angeles at age 17 in order to pursue an acting career [...] it was obvious that her talent was growing [...] Cast as Jack Bauer's (Kiefer Sutherland) damsel-in-distress daughter, Kimberly, in the breakout hit 24, Cuthbert's character suffered through multiple kidnappings and a mountain lion attack over the course of the series'' first two seasons. In the episode of 24 in which she shared a scene with the mountain lion, Cuthbert made news when the beast actually attacked her on the film set, sending the frightened actress on a trip to the hospital with an injured hand[...]
None of that should be news to 24 fans, but as a member of Blogs for Bauer, I thought I had to post the picture—if only for my own enjoyment.
I have to imagine it'd be tough to fight terrorists dressed like that, though.
And did anyone else notice that the article is from India Daily? Apparently, despite the fact that Fox
outsourced 24
to India, the Indian version apparently left out the most important draw to the show—the hot daughter—leaving its newspapers to take up the slack and post revealing photographs of the original hot anti-terrorist daughter.
Blogroll for Bauer:
GOP and the City
-
Lifelike Pundits
-
Caption This
-
The Ox Rant
-
Hector Vex
-
Conservative UAW Guy
-
Catscape
-
Sharpshooters
-
Sobek
UPDATE [1:26 - 9/9/2005]:
The Man
reveals future plans for
Blogs for Bauer
. Get excited!